JUNE IS PRIDE MONTH 🏳️‍🌈 Stand in solidarity with the LGBTQIA+ community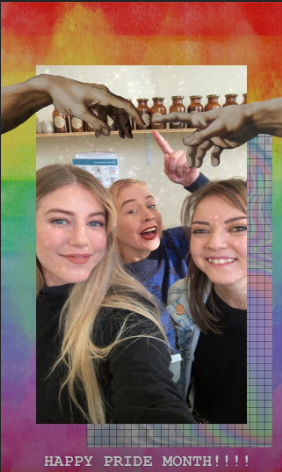 Camp Grounds. You may think camping, you may think coffee, but this month, we are putting the emphasis on CAMP, in Camp Grounds.
For those of you who don't know, June is Pride month. For the LGBTQIA+ community (Lesbian, Gay, Bisexual, Transgender, Queer and/or Questioning, Intersex, and Asexual and/or Ally) it's all about liberation, expression and simply, love.
At Camp Grounds we pride ourselves on inclusivity. We feel a duty to not only make great coffee and have a whole lotta fun doing it, but ensure y'all walking in the door feel safe, included and a part of the fam.

We promise to treat people with respect and kindness (no matter how many sugars you put in your coffee). In honour of this fabulous month, we have teamed up with ACON on The Welcome Here project.
"The Welcome Here Project supports businesses and services throughout Australia to create and promote environments that are visibly welcoming and inclusive of lesbian, gay, bisexual, transgender, intersex and queer (LGBTIQ) communities. Members receive the Welcome Here rainbow stickers and charter to display in a prominent place to let everyone know that LGBTIQ diversity is welcomed and celebrated within their business."

– The Welcome Here Project
To learn more about ACON or get that beaut sticker on your window – join in the movement here 
What is Gay Pride?
Events are central to Gay Pride. Festivals like Sydney Pride and Lismore's Tropical Fruits (a cool regional LGBTQIA+ event over New Year) are more than a colourful party. Gay Pride events started as a means to increase visibility, acceptance and advocate for the legal protections of LGBTQIA+ people in those communities. Whilst Pride events may have a political nature, they are also about acceptance and a celebration of pride for the local LGBTQIA+ community. Pride marches, parades and social media campaigns often a call for recognition and acceptance of same-sex marriage, legal protections for couples and families, anti-discrimination laws or trans rights – according to IGLTA
A Brief History of Gay Pride
To understand Gay Pride it is important to learn about The Stonewall Riots. IGLTA gives a brief history of this on their website saying –
'In June of 1969, a group of LGBTQ+ people in New York City rioted following a police raid of the Stonewall Inn, a gay bar located on Christopher Street in Greenwich Village. This series of events was a turning point for the LGBTQ+ community and marks one of the most significant events leading to the modern gay rights movement. The following year in June, organized demonstrations took place in New York City, Los Angeles and San Francisco to mark the one-year anniversary of the Stonewall Riots. As the years went on, additional cities in North America and Europe began to hold their own public demonstrations or pride day, eventually leading to what we know today as a gay pride parade, march, celebration or festival.' IGLTA.ORG
Learn more about The Stonewall Riots
Why is Pride important to celebrate especially in Tamworth as a regional Australian town?
This Pride month let's honor and celebrate the LGBTQ community. As members of a regional community we want to look at how we can help in furthering LGBTQ inclusion and Pride in regional Australia.
It's a fact – LGBTQ inclusion is less visible in regional areas. The 2019 AWEI Employee Survey showed that compared to our friends in the city, we have significantly less visible LGBTQ inclusion and allies.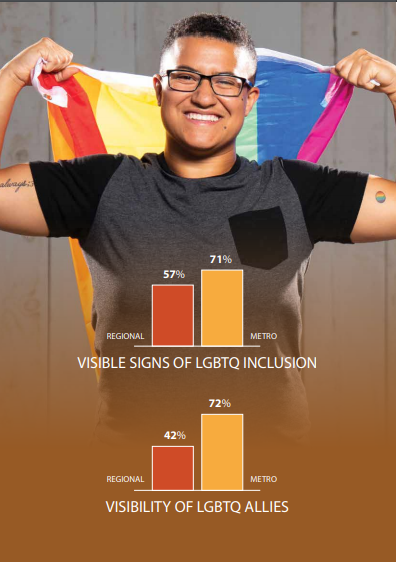 We should all be able to bring our whole selves to our workplace, local coffee shop and community in general. Whether you live in Tamworth like us or the big smoke nearby Newcastle and Sydney you deserve to show up as your true self. Especially in regional communities we need to work together to make LGBTQ inclusion more visible.
Gaining traction and driving change can be tough without the right tools – according to Australia's 'Pride in Diversity' group. If you are us and live in a regional town and wanna help further LGBTQ inclusion in your community – this resource is a great start. The 'Regional Inclusion Guide' by Pride in Diversity gives you some great tools that we delve into below.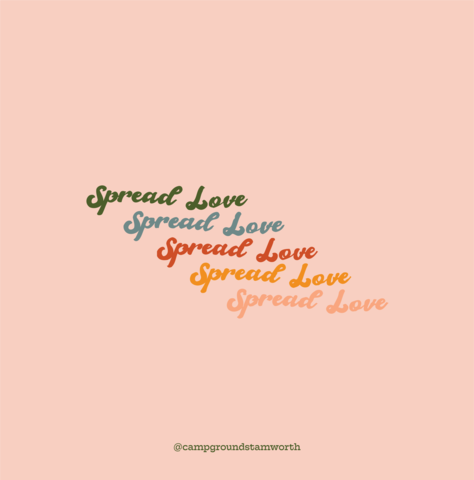 How to Guide – 10 steps to further LGBTQ inclusion Pride in regional Australia.
We have summarised Pride in Diversity's guide below- please read the full version here: Regional Inclusion Guide 2019

1. LOCAL LEADERS AS SELF-SUFFICIENT LGBTQ ALLIES

'Education is key for leaders to become effective allies. Distance makes face to face workshops more difficult, although education pieces could be part of periodical or regular leadership meetings. Leaders can also use Pride in Diversity's online and WebEx education modules. This can be reinforced with appropriate reading and online resources. ' – Pride in Diversity

2. STATE/REGIONAL LGBTQ NETWORK LEADS

''When a national organisation, with a regional presence in different states, establishes an LGBTQ employee network, it is important to include state and regional leads at the different employment sites. Having one or preferably more than one engaged contact point means that communication from the LGBTQ network in metropolitan corporate head office is more effectively transmitted to the radiational centres' – Pride in Diversity

3. LGBTQ DAYS OF SIGNIFICANCE

For information kits and imagery that you can use on LGBTQ days of significance, visit: www.welcomehere.org.au/diversitydays
MAR 31 Transgender Day of Visibility
APR 26 Lesbian Visibility Day
MAY 17 International Day Against Homophobia, Transphobia & Biphobia (IDAHOBIT)
JUNE Pride Month (1st Mardi Gras was 24 June 1978)
JULY 24 International Non-Binary Pride Day
AUG (Last Fri) Wear It Purple Day SEP 23 Bi Visibility Day
OCT 8 International Lesbian Day
NOV 20 Transgender Day of Remembrance
DEC 1 World AIDS Day
4.LOCAL NETWORKING & EDUCATIONAL EVENTS
Get amongst your community and find opportunities to learn more from others.
'Tamworth Pride Social Group' is a local LGBTQ Group in Tamworth you may like to connect with.

If you know of any others sing out so we can share the love!

5. LOCAL LGBTQ SUPPORT & HEALTH SERVICES
Something at Camp Grounds we feel highly passionate about is mental health and wellbeing. Our Campfire chats are a wonderful way to give to our community, especially those working in hospitality. All you need to do? Pull up a stump, warm your hands with a hot cuppa, and join in on the conversation of mental health. Due to covid we are looking at ways we can use social media to continue this partnership with headspace using perhaps Instagram TV or Facebook and Instagram live. Stay tuned to our socials as we look to further this program.

6. HARNESSING LOCAL LGBTQ EVENTS
Start an event in your community or join in on the events of other local organisations.
Did you see the Tamworth Country Music Festival's first LGBT pride float take part in cavalcade in 2019?
Tamworth also celebrated our first pride event in 2019 too!

7. USING PRIDE IN DIVERSITY'S ONLINE TRAINING AND WEBSITE
There are a bunch of resources and training available online through Pride in Diversity. Check it out on their website. The LGBTQ Inclusive Employers' site also has resources which are freely available to everyone.

8. WELCOME HERE PROJECT & BROADER VISIBILITY


ACON's Welcome Here Project supports businesses and organisations throughout Australia to create and promote environments that are visibly welcoming and inclusive of LGBTQ communities. We are proud to be part of this initiative. Join your workplace up and display the fab 'Welcome Here' rainbow sticker to show you provide a safe space for LGBTQ people.

9. SPORT
Sport can be a tough place for LGBTQ people because of a lack of LGBTQ inclusion according to Pride in Diversity;s research. In regional areas, businesses can play a key role in helping the local sporting clubs become more LGBTQ inclusive through engagement and sponsorship.


10. ABORIGINAL & TORRES STRAIT ISLANDER ENGAGEMENT
First Nation inclusion matters. Including Aboriginal and Torres Strait Islander protocols like Welcome to Country and Acknowledgement of Country, and displaying Aboriginal and Torres Strait Islander flags conveys respect and, like the use of the rainbow flag, demonstrates inclusion. 

WELCOME TO COUNTRY – A welcome, before all other proceedings, by an authorised representative of the Traditional Owners of the Country where an event is being held. 

ACKNOWLEDGEMENT OF COUNTRY – An acknowledgement of the Traditional Owners of the Country where an event is being held. It can be performed by anyone. 

THE ABORIGINAL FLAG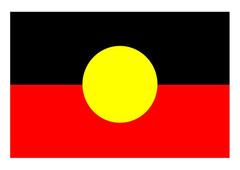 THE TORRES STRAIT ISLANDER FLAG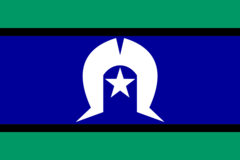 PROGRESS PRIDE FLAG